Dick Clay Memorial Trophy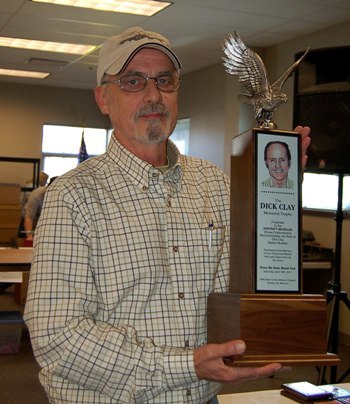 The Dick Clay Memorial Trophy (DCMT) is awarded not only to honor the memory of a departed friend and mentor, but also to foster the dedication to the hobby and to assist fellow modelers. Dick Clay, a master aircraft modeler, always encouraged beginning modelers, youths and adults, and was more than willing to provide construction tips, or advice when it was solicited.
The wording on the trophy is as follows: The Dick Clay Memorial Trophy, presented to the Aircraft Modeler whose craftsmanship best exemplifies the work of Dick Clay, master modeler. Dedicated to the memory of our friend and mentor who was taken from us too soon.
The DCMT has been awarded on an annual basis 5 different times. An entrant can only win the DCMT once. And the former winners of the DCMT comprise the judging team for the competition. The former winners are:
Bill Pettyjohn, with a 1:48th Monogram B-29
Kelly Quirk, current IPMS Region V Coordinator, with a Monogram 1:48th B-17
Joe Teliczan (who sadly, is deceased) with a 1:48th Hawk Ryan PT-22
Scott Wheeler, with a 1:32nd Hasegawa Bf 109 G-4
Ron Hilker, the latest winner was the recipient of the DCMT at the IPMS/WCMO contest in April of 2011. He hails from Fayetteville, Arkansas. Mr. Hilker's winning entry was a beautiful conversion of the old Monogram C-47 kit, converted into the FC-47 Gunship.